Making a New Year's resolution isn't enough to transform your business. You need a plan.
Hey, I'm Michael Eckstein 👋, and this is 'Ordinary & Necessary', a weekly newsletter about the small business profitability, cash flow, strategy, and personal wealth that will help your business grow. You signed up on my website. If you'd like to unsubscribe, just click the link at the bottom of this email. No harm, no foul, I'd love to have you back sometime.
​
According to Google, a resolution is "a firm decision to do or not to do something." That's it. It's just a decision. There's nothing special about it. And, we make decisions all the time. Just making a decision doesn't mean we'll follow through on them. (For example, a few weeks ago, I decided to stop eating so much pizza. Guess who still eats way too much pizza.)
A New Year's resolution without a plan to back it up is a lot like shouting "I declare bankruptcy," into the void. It doesn't do much of anything. This year, break your resolutions down into four parts: a goal, a habit, a motivation, and tasks.​
​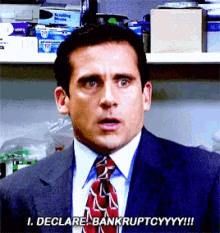 Goal: As it stands, your New Year's resolution is, probably, already a goal (eg, I want to grow my business). But, tidy it up a little bit. Use the SMART goal framework, find an accountability buddy, and put that goal in your face. For example, instead of 'I want to grow my business,' write 'I want 5 new, large clients by May 1st' on a sticky note then stick it to your computer monitor. (Check out this past email more tips on setting goals: email archive)
Habit: Resolutions are usually long-term goals. You'll need to develop new habits to hit them. Ask yourself, "what do I need to do every day (or week) to achieve my goal?" For building business, that could be scheduling more networking lunches, posting on social media every day, making Tuesdays invoice follow-up day, etc. For weight loss, that could be counting calories or going for a daily two mile walk.​
​Motivation: New habits kinda suck. You're going from doing nothing to doing something over and over and over again. And, it takes at least 3 weeks for a a new habit to stick. While you're getting in your new rhythm, you need a personal motivation to keep going (even if it's a business resolution). Maybe you want to grow your business to better pay for your kids' college tuition. Or, maybe you're losing weight for your beach body 2021 (and you're secretly trying to bring back short shorts for men).
Tasks: Lastly, there's going to be a few tasks you need to get out of the way before starting (eg, buying a scale to track weight loss, a better invoicing software to make manual follow-up easier). Brainstorm what needs to get done before you can start building your new habits and knock those tasks out.
​
Pulling it all together: I want to improve cash flow in 2021 ➜ I want to reduce how long invoices sit in Accounts Receivable from 60 days to 30 days (goal) by regularly following up with overdue clients every Tuesday (habit) so I have healthier cash flow and can sleep better at night (motivation). Before I can do that, I'll need to switch from basic Excel invoices to invoicing software so I have more info at my fingertips and can more easily make follow-up calls (tasks).
​
Action item: Turn your New Year's resolution into a full fledged plan.
​
Have a great weekend and stay safe!​
​Michael Eckstein
​
P.S. In the next few weeks, I'll be launching a free, weekly business advice happy hour. Happy Hours are gonna be one-hour, unstructured Q&A's (plus drinks), held over Zoom. Right now, I'm planning to host them at 6pm EST. If you want to be kept in the loop and get reminder emails for upcoming Happy Hours, click this link and you'll be automagically added to my list.